<![if !vml]>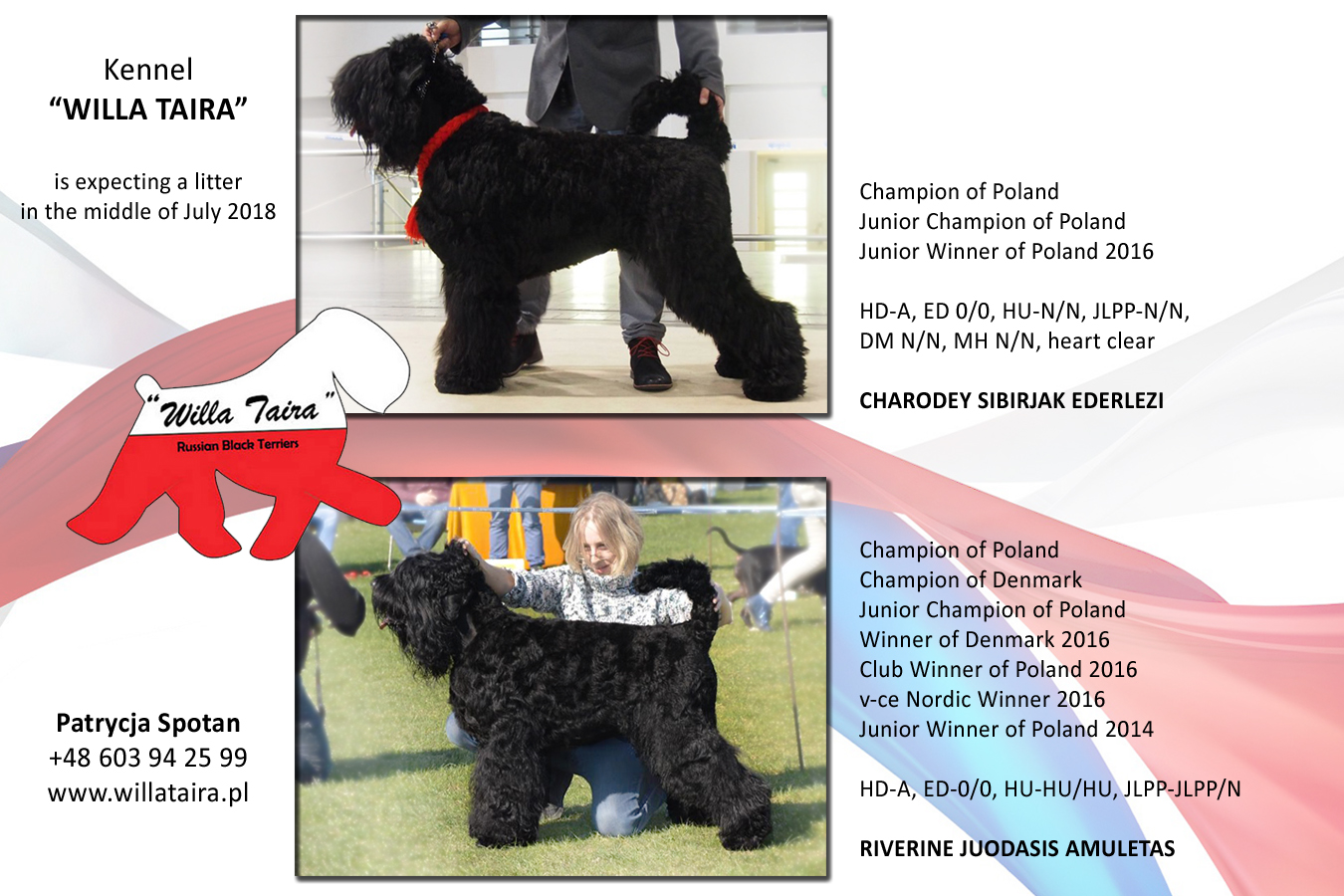 <![endif]>
I am pleased to inform you, that after a long break, we are again expecting puppies of the black terrier in the "Willa Taira" kennel. It is a very important event for us and a great joy to be able to greet the 14th litter of puppies and at the same time the 7th generation of blackies. Although the black terriers have been accompanying us for 25 years, each new dog, litter or puppy is a new experience for us and at the same time a challenge.
The mother of puppies is Pokusa (Riverine Juodasis Amuletas) - daughter of the top male from our kennel Uran Valikord Willa Taira, who came to us from Lithuania. The father of puppies is a young, but very promising, stud male Charodey Sibirjak Ederlezi, who came to Poland from far away Italy. The pedigree of puppies is a combination of lines from Russia, Ukraine, Lithuania and Latvia. And among the ancestors of puppies there are many famous dogs from the East.
In our breeding, we attach great importance not only to the pedigree of puppies, but also to their health, proper breeding and proper socialization.
Both parents are free from hip (HD) and elbow dysplasia (ED). Both are also tested for Hyperuricosuria (HUU) and Juvenile Laryngitis and Polyneuropathy (JLPP). In addition, the puppies' father is free from Malignant hyperthermia (MH) and degenerative myelopathy (DM).
All puppies will have long tails.
Puppies will be available for reception in mid-September 2018.
I invite you to contact, both people looking for a friend for the coming years, as well as future exhibitors, who want to experience adrenaline in the show ring. I invite you to "Willa Taira" kennel - this is where your adventure with the Black Terrier will start;)
Pedigree of the puppies:
Champion of Poland, Denmark, Junior Champion of Poland

HD-A, ED 0/0, HUU-HU/HU, JLPP-N/JLPP RIVERINE JUODASIS AMULETAS

Champion of Poland, Junior Champion of Poland


HD-A, ED 0/0 URAN VALIKORD WILLA TAIRA

Champion of Poland


HD-A ED 0/0 VECHIRNIY KYIV YABLUNEVYI TSVIT

Champion of Poland

HD-A HANA WILLA TAIRA

Champion of Belarus, Estonia, Lithuania, Latvia, Baltic Countries, Junior Champion of Estonia, Lithuania, Latvia, Russia


HD-B, ED 0/0 ISADORA JUODOJI AFERA

World Winner '08, v-ce World Winner '06, Interchampion, Champion of Belarus, Estonia, Lithuania, Latvia, Baltic Countries, Poland, Russia, Sweden, Ukraine, Junior Champion of Estonia, Baltic Countries, Lithuania, Latvia, Russia, Ukraine

HD-B, ED 0/0 ARBAT BAHRAI

Champion of Lithuania, Latvia


ELARA ANTALGELE

Champion of Poland,

Junior Champion of Poland

HD-A, ED 0/0, HUU-N/N, JLPP-N/N, DM N/N, MH N/N, serce czyste CHARODEY SIBIRJAK EDERLEZI

Interchampion, Champion of Azerbaijan, Georgia, Moldavia

HD-B, ED 0/0 ODISSEY IZ ANGARSKOI JEMCHUJINY

Champion of Russia

HD-A, ED 0/0 ELEOT HRABRETS IZ ANGARSKOI JEMCHUJINY

Champion of Russia, Junior Champion of Russia

HD-B, ED 0/0 VENICE PREMIUM IZ ANGARSKOI JEMCHUJINY

Interchampion, Junior Champion of Italy

BESSARABIA ZHEMCHUZHINA U MORJA

SILVER IZ VESELYH TUCHEK

HD-B, ED 0/0 ROKSOLANA JUZHNAYA NOCH
HERE ARE THE SIRES OF OUR LITTERS:
HD-A KASTOR Werda

Interchampion, Champion of Poland, Winner of Poland '95, Club Winner '96

I litter - "M" - 1995
II litter - "L" - 1997

JASHKA MALAHOVSKIY iz Russkoi Dinastii

World Winner 03, Europe Winner 99, V-ce World Winner '98 i '00, Interchampion, Champion of Russia, Champion of Estonia, Champion of Latvia, Champion of Lithuania, Champion of Bialorusia, Baltic Winner, Grand Champion of Russia

III litter - "V" - 1999

HD-A SLAVNY VITJAZ iz Russkoi Dinastii

Interchampion, Champion of Poland, Champion of Slovakia, Champion of Czech Republic, Club Champion of Czech Republic, Club Champion of Slovakia, Junior Champion of Poland, CAJC, Junior Class Winner on BRT Club Show - Cingov '00 (Slovakia), Best Black Terrier (Male) of the year 2002, Best Stud Dog of the year 2003, BIS PUPPY, JUNIOR BIS, BOG, Dog Show Winner and BOB, Best BRT (Male) 2002*, Best Stud Male of the Club Show 2003

IV litter - "D" - 2000
V litter - "G" - 2001

KRIS

3 x World Winner '99, '00, '01, Europe Winner '00, '01, '02, Interchampion winner in the open class on the world show '98, v-ce Europe winner '99 Champion of Russia, Poland, Mexico, Denmark, Georgia, Luxemburg, Holland, Estonia, Latvia, Ukrain, Bulgaria, Israel, Baltic Winner, Portugal

VI litter - "I" - 2002

HD-A IGRUN VASILIY s Zolotogo Grada

Champion of Poland, Club Champion of Slovakia, Club Champion of Czech Rep., Junior Champion of Poland, Junior Club Winner and Best Junior of Breed 2002, Club Winner and Best of Breed 2003,
Winner of Poland 2003,
Best BRT (Male) of the Year 2003*

VII litter - "R" - 2004

IX litter - "N" - 2005

XI litter - "W" - 2007

XII litter - "T" - 2008

HD-B SOKOL iz Tsarstva Reglash

World Winner 2004, Interchampion,
Champion of Slovenia, Champion of Croatia,
Champion of Austria, Champion of Brazyl,
Champion of Serbia and Montenegro, Junior Champion of Slovenia, Junior Champion of Croatia,
Junior Champion of Austria,Club Winner of Serbia and Montenegro 2005, Certyficate of ICRCHT

VIII litter - "E" - 2005

HD-A VESELCHAK s Zolotogo Grada

Interchampion
Grand Champion of Russia
Champion of Russia, Champion of Ukrain
Champion of RKF
Champion Class Winner - World Show 2002
Certyficate of ICRCHT

X litter - "H" - 2005
<![if !supportLineBreakNewLine]>
<![endif]>

HD-A, ED 0/0 VECHIRNIY KYIV Yablunevyi Tsvit

Champion of Poland

XIII litter - "U" - 2010
* ranking of Polish BRT service